Greek Mythology x Real world


Who doesn't love an amalgamation of mythologies and the current day? Bring Zeus or Poseidon, we will not complain! We get to witness why the Amazons were created and how they are destined to save the world. Cliche? No. The art of weaving history with another piece of history is no easy job but Director, Patty Jenkins along with Zack Snyder and team have left no room for disappointment. Introducing a superhero needs time and introducing a superhero the right way needs a lot of time. And Wonder Woman did it right, a little too right.




Young Princess Diana


A little overly enthusiastic Wonder Woman running around Themyscira restores all faith in DC movies. We know DC movies are supposed to be dark and 1% humour infested but it's simply a ray of hope every heart yearns for. Who doesn't like watching origin stories in their most raw forms? She's such a natural warrior, it almost pains to see why her mother would go any measure to keep her safe.


The point of acceleration 


This is the point in the entire movie where everything kick-starts and moves in a direction which is irreversible. The moment when Steve Trevor's plane crashes into the ocean, you can pack your popcorn bucket inside your bag because things are going to get serious. Yes, 15 minutes into the movie and things are getting pretty damn serious.
4. A light mood DC movie

DC has long known to be the dark and people like it that way, but Wonder Woman broke all the barriers and still qualified for a DC movie. Little light humor here and there hurt nobody! When you throw an Amazonian princess in the new age London, you get nothing short of a hilarious outtake. Plus Gal Gadot is such a natural, you'll lose your mind in most of the scenes, all right, the whole movie.

5. Her costume

Is there anything more dominant in this movie other than the insane makeover of the original Wonder Woman costume? It's from the ancient times and still so classy. It's hard not to let your  jaws drop at every scene of this movie because her costume is so magnificent. The costume totally beats any other superhero costume upgrade.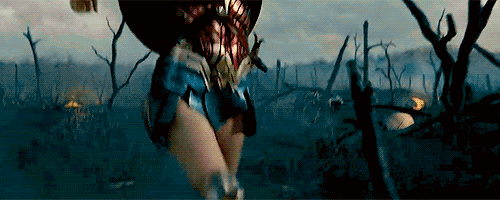 6. Steve and Diana

Now we know none of the superheroes get a happy ending, and probably that's why we connect to them so easily. The creators want you to feel the movie instead of just watching it. Steve and Diana could have been so much more, it pains to see otherwise. Chris Pine has rendered a more mature and understanding version of Steve Trevor from the comics and it's just too perfect to be true. All aboard the feels-ship!

7. Strong sense of belief 

The best part about a movie is how well it's written and how well the actors grasp the need to deliver specific lines without self-doubt. Quotes go a long way in the history of movies, so will the quotes from Wonder Woman. You'll know that a quote will be one to remember for a lifetime when you watch this movie.

8. Epic slow-mo fight sequences

A superhero movie without a slow-mo fight sequence is not a superhero movie. We need dramatic pauses, close up eye shots and explosions! Wonder Woman's training has finally come to work when she battles against the 'bad guys' and you will definitely go "Oww, that must hurt" in every fight.

9. Strongest female lead for a feature film

This is probably where everything in Cinema is going to change. The entire movie concentrates on Princess Diana and nobody else. That's what an origin series should be like. Bringing useless side characters would do nothing but take extra screen time and disrupt the space-time continuum. And in doing so effortlessly, Wonder Woman will  not be easily forgotten. You'd want to watch it again and again, because its a hero saves the day kind of movie.

10. I'll save today, you can save the world

The trailers begin with Diana saying "I used to want to save the world" and it makes complete sense in the end of the movie. It makes so much sense that it hurts. Nothing will break your heart as much as the ending everyone in the movie received, except the bad guy. So when you go watch the movie, go with a thought that it might mentally destabilize you.
Written by - Sajida Ayyup.