Nostalgia hits me like a train and even though I'm in my 20s, there is just something about animated films that speak to my soul a whole lot more than regular, live-action feature films. Whether it's Kung Fu Panda, Finding Nemo or even a classic like Lion King, it's like I discover something new every single time I watch these movies even today. The intricacy of their detailing(the way even a single hair moves in Monsters, Inc, the universal themes and the absence of any creative constraints are just a few of the things that make an animated movie so great.
But why is it that we don't have a single nameplate to showcase in the hall of fame as our own to match against international movies in the industry?
Why is it that after all these years, there's not a single Indian animated movie we can be proud of?
Genesis
Indeed, there have been quite a few 'attempts' by our homegrown filmmakers in the animation landscape. The infotainment lyrical Ek Anek Aur Ekta in 1974 was the first attempt at an animated movie on the Indian front which has a cult status to it.  Ravi Varma tried going where no man had gone in the country with Ramayana: The Legend of Prince Ram in 1992 which was a stunning blockbuster redefining India's entry into the industry of animation. It explored the FUSION style of animation. With such a good start, experts are still trying to figure out what went wrong and where. Another notable effort was the film Hanuman, a full-length 2D animated flick that showed a slight glimmer of hope. Hell, this film showed so much potential that even an auteur like Anurag Kashyap who generally makes dark, realistic and gritty films was inspired to make a sequel to it!
Humble beginnings: Ek Anek Aur Ekta
It's been 9 years since Return of Hanuman released, and the only 3D animated film that made it to our screens was Yash Raj Films' absolutely forgettable Roadside Romeo and Eros' grossly unimpressive Kochadaiyaan.
On the small screen front, since the decommissioning of the original Cartoon Network, the Indian version has only been an embarrassment with inferior cartoons like Chota Bheem, Shaktimaan and many more whose names I'd rather not remember.
Make LOL, not WOW: The unintentionally LOL-worthy Roadside Romeo
And it's not that the market doesn't exist. In a country of over 1.25 billion people with more than 50% of its population being under the age of 25(if we were to consider that only young people watch animated films, which isn't completely true), animated films as a genre would seem like a goldmine on paper. So where are we going wrong?
So much talent, so little love
Walk down any road in any Indian metropolitan city, and you're bound to see a board of an 'Animation Class' at least once. More and more young folks are flocking towards these academies to get trained and certified, because somewhere, there is a mountain of opportunities waiting to be climbed. And if you're wondering why you still haven't seen an Indian animated feature, here's a possible reason.
In Ashutosh Gowariker's Swades starring Shah Rukh Khan, one of the characters, Melaram, a low-caste village cook dreams of opening his own dhaba on an American freeway. But towards the end of the movie, Melaram refuses the offer when he's presented with an opportunity to do so. And this is is the reason he cites: if I leave my country an open a dhaba in America, earn in dollars and pay taxes to the American government, it'll be like I'm using my house's lamp to light up my neighbour's house(apologies for the terribly rough translation).
And this is exactly what's happening in our country.
Like in every other sector, India has officially become the "world's outsourcing hub for animation". Global giants such as Walt Disney, Warner Brothers and Sony have been looking towards the East for years now, giving rise to tons and tons of animation studios in Pune, Mumbai, Bangalore, Chennai, Hyderabad and Trivandrum. And some of these animation and VFX studios, like Prime Focus, have even done extensive work for movies like Hugo, X Men: First Class and even Interstellar, which they won an Oscar for.
And why do they flock to India?
Mainly because we're cheap. The cost of animation production in India is one fourth of North America and about 35% lower than countries like Korea and Philippines.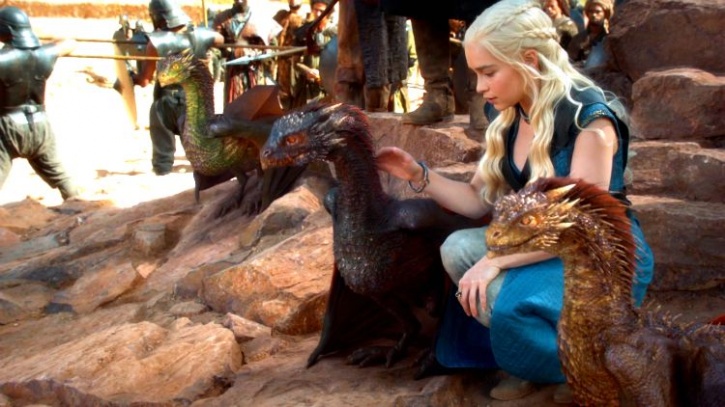 Even Khaleesi's dragons from Game of Thrones were conceptualized right here in India! 
Employing thousands of people and growing at the rate of 30% every year, the Indian animation industry is booming, to say the least and is expected to cross over $1 billion this year. The only sad part is that all this work we're doing is to earn some money on a pro-rata basis and eventually fill the pockets of USA, UK, Italy and Spain.
Make in India, Send it Abroad…that sounds a little more apt, doesn't it?
Is there hope?
There are instances where even someone like Quentin Tarantino himself was inspired by animation in Indian films. He once stated that the stunning animated sequence in Aalavandhan (Abhay) to portray the extreme violence side of Kamal Haasan's character was what inspired him to the action sequence in Kill Bill. My personal favorites of use of animation in movies are Alavandhan and Ok Kanmani where animation was used in an innovative way to depict the clippings of a movie sequence. There are so many smart, extremely talented individuals working in the field of animation who eventually become a part of teams that produce spectacular Hollywood films. Pixar's American-Indian animation family is the one known for its diversity, but there isn't a self-dependent Indian based animated studio that can survive on its own in this industry.
The animation sequence from Aalavandhan(top) and the sequence it inspired in Tarantino's Kill Bill
So who's to blame?
Hiren Gada, Director of Shemaroo entertainment which gave us movies like Bal Ganesh and Bal Hanuman once said, "The animation films are still at a nascent stage as far as the theatrical collections are concerned".
So is it us, the audience who are the ones to be blamed? Or is it the industry that underestimates us?
All I'm saying is, I've reached a stage in my life where even though I enjoy Hollywood animated film, the pure unadulterated happiness that I used to experience as child watching these characters come to life has turned into a bittersweet emotion. On one hand, I'm having fun, but on the other, my blood boils at not being able to see such stuff made by the country I call home, a country that's brimming with talent waiting to take the first flight out of here.
So is there hope? Well, I definitely hope so.
Written by Kasthuriramanan