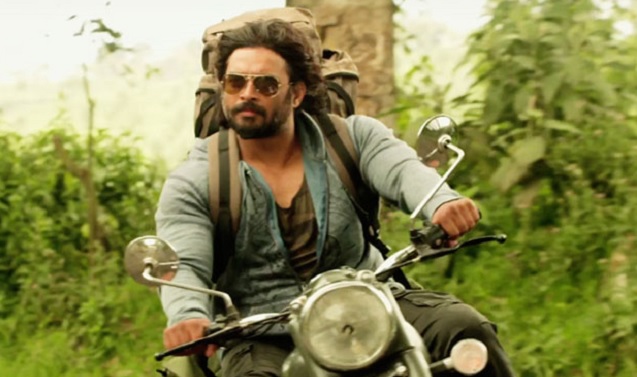 Most of the films we watch today are filled with clichéd and monotonous characters that we have been exposed to since the beginning of cinema. It is very unlikely that we find characters that make us go "HOLY S#*T".
Here is a list of 10 characters that we "DID NOT" see coming from these Actors:
10) Shaam as Ram \ 6 Candles
If there was ever an award for the most underrated performance in Tamil cinema, it would go to Shaam for 6 Candles (ironic how it's the closest he'll get to an award). Anyway, the movie saw a different side to the "dude" who travels in 12B, steers ships and searches for Jayam Ravi around the world.  Yes, Shaam, he played the character of a father who is in search of his kidnapped son. What made this role special was its stark contrast to the other roles he has played before. Despite the 6 packs and the sleepy bags, he had this depth and motive to his character that drove the movie forward. This was surely something that I didn't expect, 12B to 6C.
9) Vishal as Walter Vanangamudi \ Avan Ivan
Vishal is known for acting in movies where he seems like a normal person at first but has some badass flashback where he was linked to ISIS or has run away from marriage, eventually leading to the opposition finding out about his whereabouts and one badly lit climax fight sequence where he beats the entire population of his village and walks away with some minor Dettol-curing bruises. But... It wasn't so in Avan Ivan. In this movie, Vishal played the character of an effeminate artist who is bold and pulls off a cool squint. No one saw it coming, and it was Bala's raw touch that made it the beautiful role that it was. The intricate characterisation and the way Vishal pulled it off made it one of the most celebrated characters in Tamil Cinema.
8) Madhavan as Prabhu Selvaraj \ Irudhi Suttru
"Hey sandakkara, 
Nenaichu paakale
Indha role le nee ..nadipa nu."
From being a chocolate boy, Maddy become Mad-dy. After converting the Thoppa-cks to six packs and watching some videos of brilliant boxing movies like Maan Karate and Booloham, Madhavan decided to take up a role that would change his
image completely. Short tempered, talented, discriminated and loving are words that you would associate with the unpredictable "Prabhu" in Irudhi Suttru. Madhavan shocked the
entire film industry with his beautiful and neat portrayal of his character in
this film. He played the role of a coach who finds talent in a fishmonger and
the story revolves around his struggles to make her a champion.  Despite
being a good film, this character
turned out to be one of the many that would never be forgotten in the history
of our industry.
7) Chiyaan 

Vikram as Chithan \ Pithamagan

 
This name is synonymous with versatility, whether it was in Sethu or AI. But if you look for the best
among the best, you will find "Chithan". I know that by now we are beginning to realise the impact that Bala has had on performances and this is just another example. This movie saw Vikram play the role of an orphan who seems to be mentally affected after witnessing his mother's early death. What made this role unexpected was how well and how far Vikram went to pull it off. Throughout the movie "Chithan" is expressionless. By portraying very minimal expressions, he manages to
express the emotions and motives of the character. There have been many similar characters in the industry post Pithamagan but none as good as this one.
6) Vijay Sethupathi as Das \ Soodhu Kaavum
Right from "5 rules of kednaping" to his quick and brilliant dialogue delivery, Das redefined every kidnapper-character in the world. Post Pizza and Nadula Konjam Pakkatha Kaanum, there were a
lot of expectations for Vijay Sethupathi but this film took everything to another level. Before Soodhu Kaavum we saw kidnappers who were serious people who went to extreme measures to kidnap
people. But Das wasn't like the others, He had 5 rules of kidnapping.
He will function only according to these rules. He doesn't believe in big jobs, only small one's of children playing with toys, people walking or jogging on the road. Don't mistake him for his job, he is very considerate, he will analyse your financial capabilities and do your taxes before he asks for his ransom. Jokes apart, this character revolutionized the portrayal of kidnappers FOREVER.
Close, Shutdown, Conditions Apply.
5) Arvind Swamy as Siddharth Abhimanyu \ Thani Oruvan
We've had Bad villains,  We've had Good villains,
But this guy's not bad, JUST EVIL.
Yes, Siddharth Abhimanyu.  It's not very often that Tamil cinema witnesses smart villains. By smart villains, I don't mean normal villains that live to say "AVANE ADINGE DAAAAAA" or "VANDIYA EDUNGE DAAA" or Villains who have 200000000000 bodyguards who one man manages to hit with his bare hands. I'm talking about a smart business man who will kill anyone who comes in his
Yes, Siddharth Abhimanyu.  It's not very often that Tamil cinema witnesses smart villains. By smart villains, I don't mean normal villains that live to say "AVANE ADINGE DAAAAAA" or "VANDIYA EDUNGE DAAA" or Villains who have 200000000000 bodyguards who one man manages to hit with his bare hands. I'm talking about a smart business man who will kill anyone who comes in his

way. Siddarth Abhimanyu was that man. He controls everything around him, even his own father. It's not very often that we get to see stylish and badass villains who can control anything. What made it better was the fact that it was portrayed by a yesteryear romantic hero. Arvind Swamy who is known for his roles in Roja and Bombay. When news about his return was taking its rounds, never did we expect something of this sort. I guess it's only a matter of time until we know about the sequel and whether we would see Siddarth Abhimanyu again. So until then, Theemai Dhan Vellum.
4) Ajith Kumar as Shivashankar

 

\ Varalaaru
Hold your gasps. Yes, the movie was decent. Not saying anything about Thala because I intend on
working with Fully Filmy longer. Anyways, I think that we need to agree that he has had some good performances with the likes of Yennai Arindhal and Varalaaru but with regard to this article one of his roles left the industry awestruck. He played the role of a classical dancer who is mocked by the people around him for his feminine body language. For a justifiable part of the movie, Ajith performed in a feminine way basically nailing the body language and his expressions. Though being awarded with a Filmfare award for this film, this is one of his most underrated performances. In what looked like an era of violent heroes that were alike and repetitive Ajith Kumar came out
with a stunner that stunned the Tamil Cinema audience. Not too many similar roles have been explored after the movie which makes it one of the most unexpected characters in our history.
3) Rajnikanth as Chitti \ Enthiran
Watching the second half of Enthiran was like finding Diamonds in a goldmine. We have watched and appreciated the various avatars of Superstar. As we saw him play the initial Chitti, we were shocked and taken aback but we had no idea that we would be mind blown in the second half. Have you seen God? Well I did, I saw him wearing a silver coat and some black shades destroying everything in the path of his love.
It would be an understatement if we called it unexpected because this was the
biggest gift to every superstar fan out there. Chitti 2.0 was eccentric, violent and focused which made him an unstoppable force. We witnessed something that we only saw in English movies and to see it in the form of our Thalaivar was beyond surprising. With Kabali and 2.0 are on its way, I don't think that the top spots will stay the same for long.
2) Bobby Simha as Sethu \ Jigarthanda
"Kashtapadra Jeevanah Paartha Adhu Karuna Kolla
Ivan karunaiah paarthaaley Kollathaanda!"
It would be an injustice if we don't crown this character as one of least expected roles of
all time. Firstly, we did know what Karthik Subbaraj or Bobby Simha was capable of, but never did we know that the two of them would end up creating one of the most iconic characters in
the history of Indian Cinema. "Sethu", or as the masses call him
"Assault Sethu" was by far one of the most badass villains in the
history of Tamil Cinema. The national award winning character was portrayed by
Bobby Simha who literally gave sethu everything that the character demanded. With Salt and pepper hair and a vintage red car we witnessed Madurai's most feared
man. What made this character the best and among the top of our
list is the attention to detail and the never before seen elements. It was even
more crazy when you realise that it was portrayed by an actor doing his first negative role. I think that the impact this character created will etch his name in the history of best characters in
our history.
1) Powerstar as Chitti / Ai
No, we're just messing with you. As we wonder which character deserves the number 1 spot on our list, one name comes to mind. This name has not only portrayed every character in the book but has done it with ease and endless effort. Whether it was one character in one movie or ten characters in one movie, this man never failed to deliver. 
Right from a kid to an old woman, this man has done every character that has been created.
Hundred Characters, one name.

Kamal Hassan.
You give him a role and it's only a matter of time until he aces it. It doesn't matter if it's melodrama or comedy, whether it's action or fiction. You pick the genre and watch the man do what he does best. It's one thing to watch an unexpected character but it's another to not know what to
expect and that is Kamal Hassan.
Written by Kishen Das