Who doesn't like visiting famous movie locations and recreating their own cinematic experience? Unquestionably and shamelessly, I do! When I visited Paris this summer, I practiced my game face on before leaving home. Being a movie enthusiast, the only thing that excited me (okay, also the authentic Nutella crepes and the Shakespeare & Company bookstore) was the fact that I was going to get the opportunity to stand in the exact location where a few of the iconic film scenes were shot.
Finding these movie locations was no easy task. It took me a good 3 months to actually sit down and list the places from various sources over the internet. Sometimes people would be kind enough to attach a map as a link and sometimes I had to pray to Google Maps and get lucky. But standing in the exact same spot and imagining the camera rolling, film crew tripping and falling over wires, a really good tea-break in between shots and the director screaming "retake" was unfathomable. You'd instantly step to the other side of films - the making. Imagining the number of retakes in the same spot was so unrealistic that I had to ask my friend to pinch me, to know for a fact that this is it.
1. Finding Gil's midnight rendezvous point
Paris is like a Woody Allen movie - I'm going to back that up and live on it. Midnight in Paris was entirely shot in the city of love and places surrounding it like Monet's Garden and Versailles which are both a few hours ride from the city.
Remember that scene in the movie where Gil walks a lonely Street in the city and just decides to sit on the steps outside a church? The bells start ringing at the strike of midnight and you know the rest of that story! This part of the city is so quaint and too beautiful to be true. You can also see the dome of Pantheon from this place if you stepped away from the stairs a bit.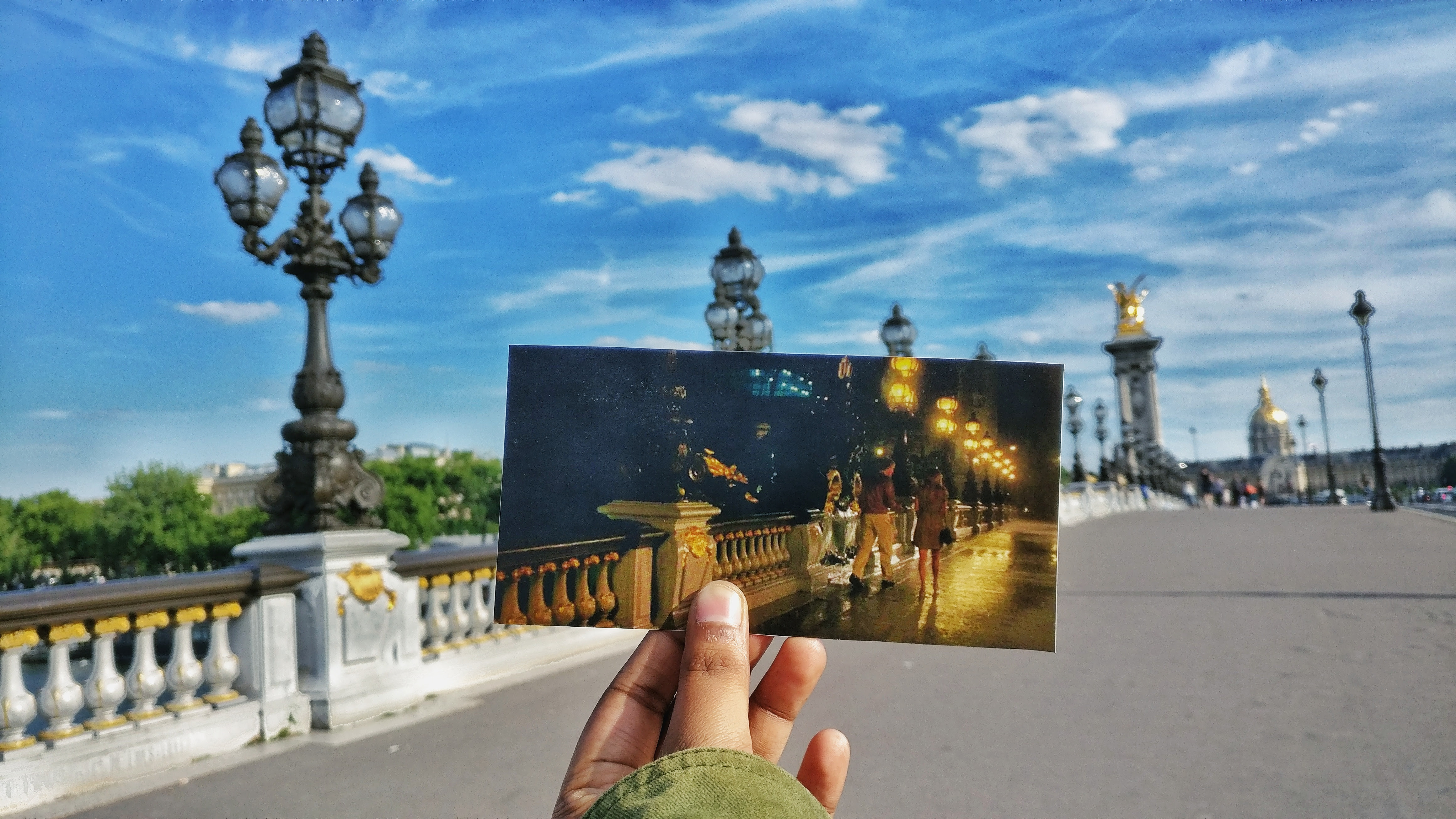 Gil, like all of us, excessively loves Paris and especially when it rains. I completely agree with him. There's something so magical about a slight drizzle as you walk along Pont Alexander III, a bridge across the Seine river. Finding this bridge wasn't hard either. Four massive gold plated structures corner this bridge and attract everyone's gaze towards it even from afar.
2. Walking with Jesse and Celine
I don't know if it's only me or there are people who fantasize about walking in Paris and doing absolutely nothing other than just walking and talking about the existence of parallel universes. There's no other way to experience the Before Sunset walk in Paris than actually doing it. And bless the people on the internet for finding these locations. The most obvious ones were easy to find because hey, Shakespeare and Company is not an easy one to miss! This bookstore is like a gift from God. No wonder Richard Linklater chose this over the 100 other bookstores in Paris.
Walking on the same cobbled street where both of them find out what actually happened after they parted ways in Austria was too damn overwhelming. I mean, if you didn't weep like a baby in this scene then we can't be friends. This movie is so realistic and cut-away from all the cliche drama that it restores universal balance. When I first came across this series, I wasn't too keen on watching it because it was listed under the excessively romantic movies set in Europe. But my annoying college senior, Subbu (whom I can't thank enough) insisted on me watching it like the world was about to be attacked by aliens any second and the information needed to save planet Earth lied in the Before Series.
3. Listening to Ariadne's take on dreams
Inception is one of those movies that'll permanently put you in a film limbo. An added advantage is the beauty of each of the locations used in the film, and mostly Paris. It's so fascinating to understand how dreams work and things could get real messed up if a single detail went missing.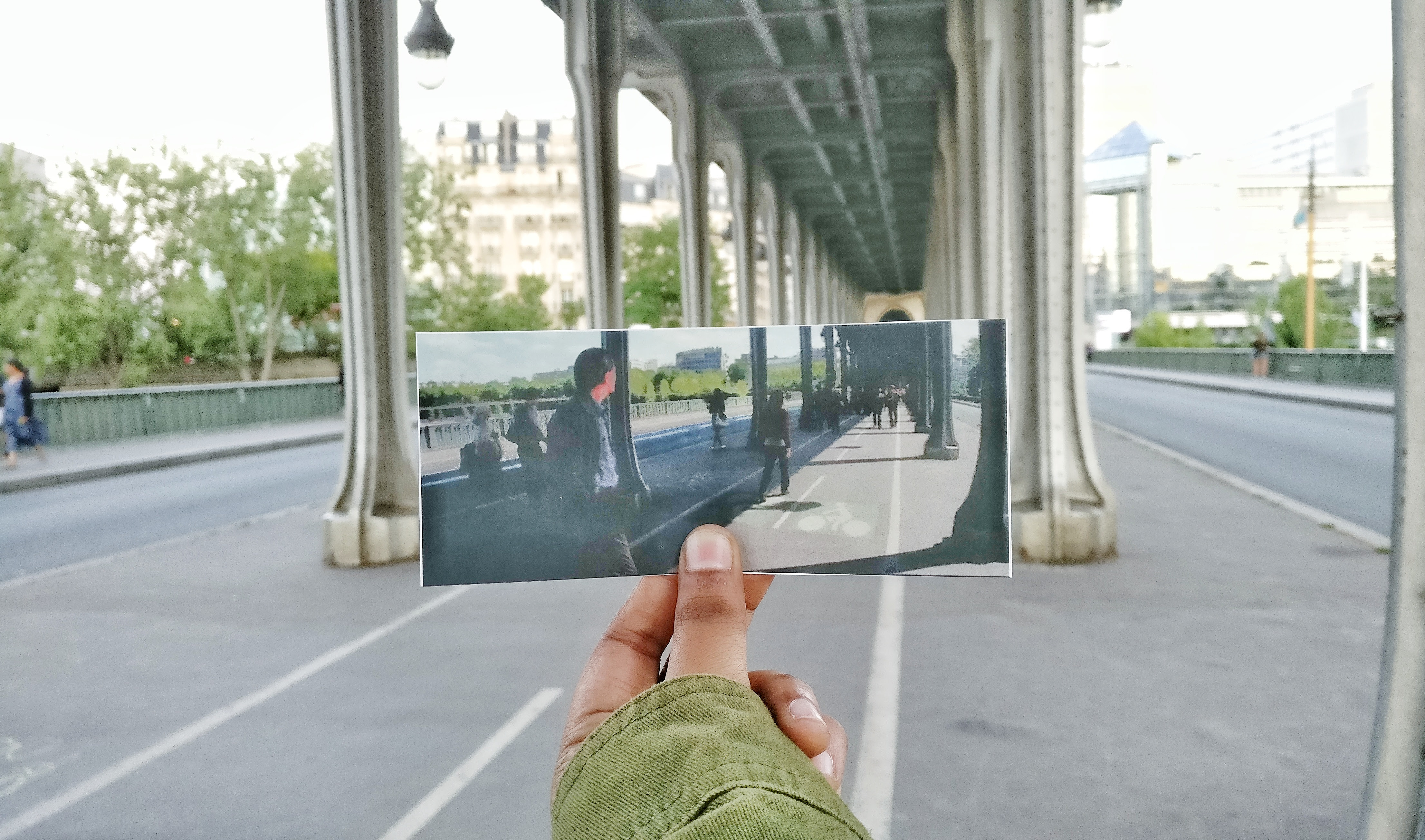 This bridge - Pont De Bir Hakeim has been on my mind ever since I watched Inception. Finding this bridge in the city is the easiest thing to do and you don't even have to walk too much. In fact, Bir Hakeim is a metro station really close to the Eiffel tower. The entire stretch of this bridge will remind you of nothing other than Cobb and Ariadne's conversation. A lot of brides-to-be were getting their photoshoot done here and my eyes just kept leaking everytime I witnessed one. Can you imagine Leonardo DiCaprio actually standing there? He was there as a whole human being, shooting his scene like a nice young man and I tried to trace his paths under the bridge, but failed miserably. The bridge is huge, mind you.
4. Shopping for a cookbook with Julia Child
You can never appreciate butter as much as Julia Child does. And, you can never love food as much as she does. It's just not allowed. Julie and Julia easily tops my list of food movies for one reason - Meryl Streep. She's goddamn beautiful.
Another reason why it's the best food movie ever is because of Shakespeare and Company. Can this bookstore stop being so generous in its appearances (secretly wishing it never stops)? Standing outside this bookstore is like eating ice cream - you're going to love it! I stood outside the store for a good 15 minutes just admiring it. They have various pop-ups outside so we can freak out double the amount, you know? Also, this bookstore has a cafe adjacent to it where they sell the most amazing fruit pies and iced tea. Now this is justice done right to Julia Child.
5. Feeling Mia and Seb's rat-tat-tat on my heart 
Though this would be cheating, but not including La La Land in this would be a massive sin. Damien Chazelle recreated the famous Jazz club - Caveau De La Huchette in his beautiful piece of art. Recreating would still mean it's in Paris, right? 
What do you do when you randomly find this jazz club across the street? You scream your heart out, drop everything and run towards it. Honestly, I wasn't ready for this one bit. We found it at the wrong time though. It opens every night at 9 pm only and the time was 7 pm. City of stars, you're not shining for me right now. The notice board outside the club has a poster of La La Land and that was enough to make my day. It was truly enough. But we did make it to the club another night and bless the interiors - it looked so familiar! You'll start dancing even if you hate dancing. And I don't know if I was hallucinating but the pianist looked exactly like Seb (crying emoji).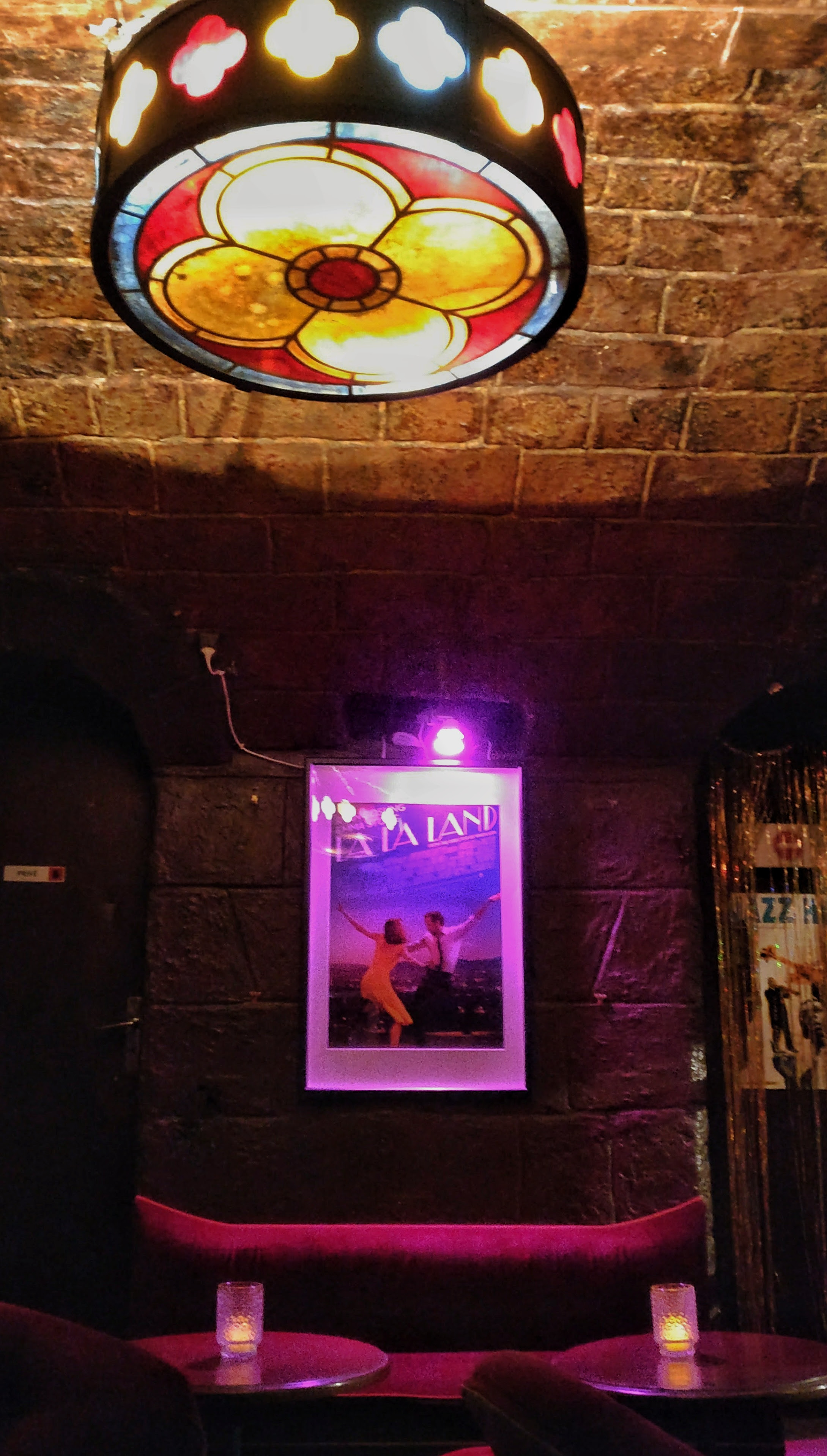 6. Breaking promises like Rick Blaine
This might be another cheat but it was too tempting not to include Casablanca here. The famous line from the movie is famous for a reason. Rick and Ilsa have immortalised Paris ever since they met here.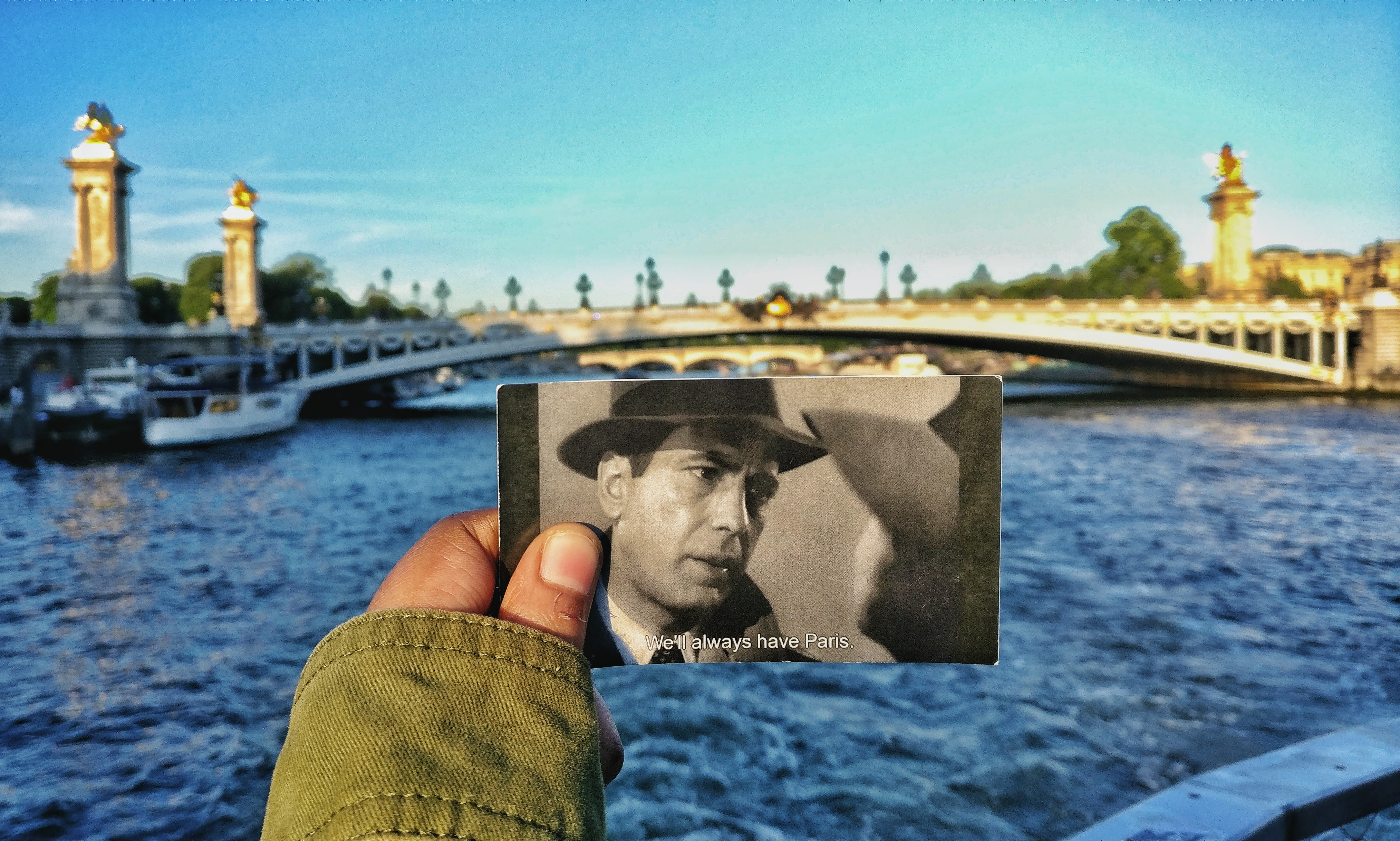 Those were the days, when the sun was shining bright and we could go on a boat ride down the Seine river. Remember that one heartbreaking scene in the film which cannot be handled alone? It was meant to be. Paris was meant to happen. And in the end, if things don't turn out the way they were supposed to, we'll look back and say that "we'll always have Paris".
Written by -
Sajida Ayyup